Applying for a Job
If you have come to the Compono candidate login page from a link on a job ad or by invitation from an employer, the first thing you need to do is to sign up for a Compono account. If you already have a Compono account from a previous job application, you can simply choose to log in using your existing account. Once you have signed up and are logged in to your account, follow the on screen steps to begin completing your profile.
IMPORTANT: Once you have completed your profile, be sure to click on the Review button at the top right of your profile screen in the job advertisement summary, to review and submit your job application. Your application will not be submitted until you complete this process.
Visit the quick start guide for more detailed information about applying for a job.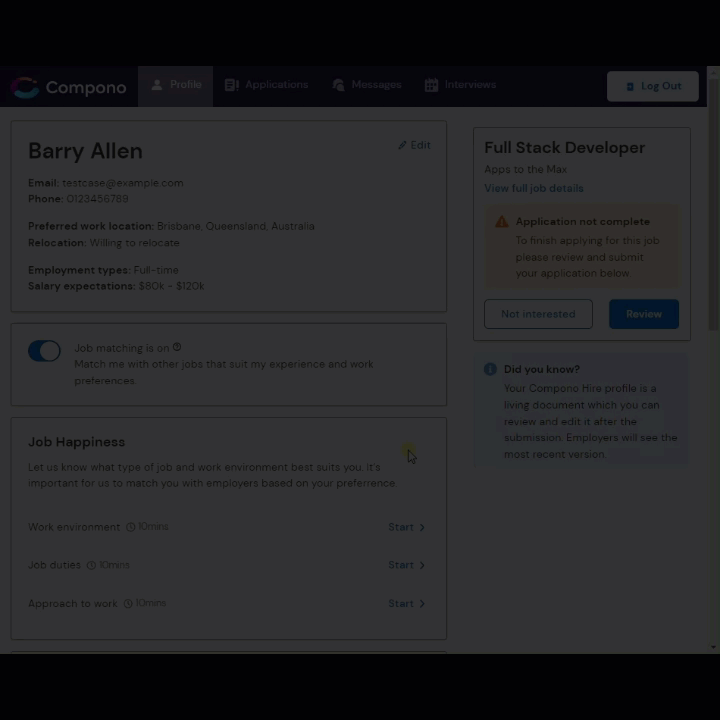 Completing your Compono Profile
When first signing up, you will need to complete your personal details on the first page of your profile. If you already have an account, you can edit this information by clicking the 'Edit' button next to your name.
You will then be asked to upload your resume which we recommend that you do.
We suggest you then complete the Job Happiness, Experience and Skills and Qualifications sections of your profile. Note that your profile will be pre-filled with information from your resume, but we strongly recommend that you check this information for correctness and edit where necessary. You may also include any relevant documents and links.
You may come back to edit and update your profile information at any time.
Your Compono Profile and Job Matching
Your profile is also used to match you to other jobs that are advertised using Compono Hire by other employers.
Be sure to keep all parts of your profile up to date to ensure the best job matching results.
Employers from these matched jobs will first need to invite you to apply.
Your personal details will never be shared until you apply for a job.
You can turn on/off job matching from within your profile at any time.