Employers will send you messages to your Compono account relating to your application
When applying for a role using your Compono account, you may from time to time receive messages from Employers. Employers may contact you with regards to interviews, or your application status, or request additional documents, so it's important for you to be checking your messages and responding.

You will find all your communication with the employers in the Messages tab when you log in to your Compono account. With messaging, you can:
View messages received from employers

Reply to messages from employers if they are accepting replies

Attach documents to your message.
When you receive a message, you will be notified via email. Similarly, employers will also be notified via email about any new message you send them.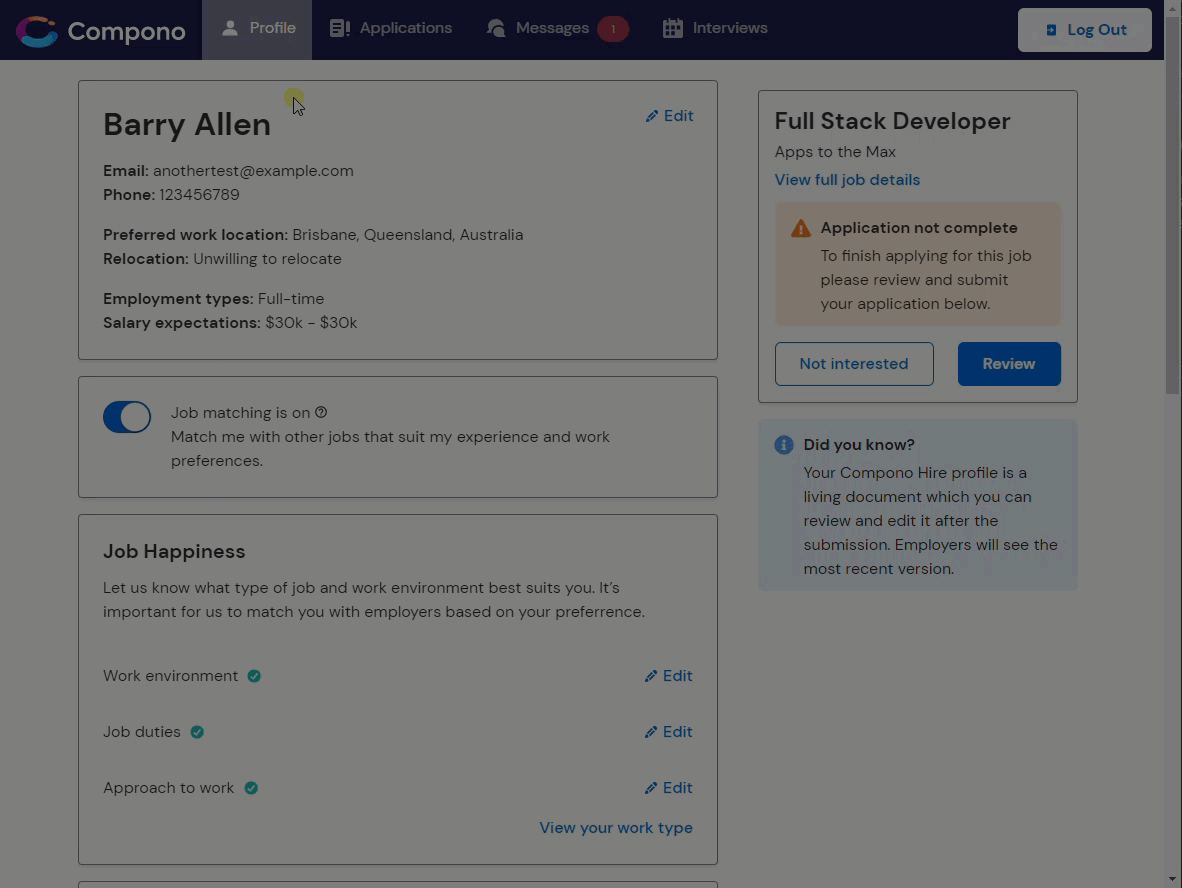 Viewing a message
Log in to your Compono account. If you have new unread messages, you will see a notification in the "Messages" tab.

Click on the "Messages" tab in the navigation bar. You will be redirected to the message inbox page. The left panel will display the conversation summary for each job with the subject of the latest message sent to/received from the employer for that job. The right panel will display the actual messages sent to/received from the employer.

The conversation groups are ordered to have the latest communication at the top.

Click on any of the conversation groups on the left, and you will see the relevant message feed in the right hand panel.
Replying to a message
Select the message you would like to reply to

Click on the "Reply" button for any message to send a reply or follow up message to an employer. A text box with a pre filled subject will open for you to write your message

Click on the "Upload files" button to add documents with the message if you have any (supported document type: .doc ,.docx , .pdf , .rtf , .txt , .jpeg , .png ) If you upload the incorrect file, click the trash icon to remove it before sending.

Once you finish writing the message / uploading necessary files, click on the "Send message" button. Your message will be sent and you will see the message with attachment (if any) in the message feed. You will find the latest message sent to/received from the employer at the top.

Alternatively, click on the "Cancel" button to cancel the message anytime before sending

After sending, you will get a "Sent via email" confirmation tag at the bottom of the message after successful sending of the message. The "Sent via email" tag will be updated to the "Seen by employer" tag when the message is viewed by the employer.
You can also reply by clicking the button in the email notification you received.
Once you have sent a message, you won't be able to delete or modify the message/attachments.

To send a new message you must add some text in the message body.